What to know when changing careers
Employment and job security are front of mind for many this year, with unemployment rates reaching record highs as a result of the coronavirus pandemic.
It is not surprising that many people are wondering whether changing careers is a good option for them, and whether this is the right time to do it.
Australians in many cases have been presented with the time and space to consider what they really want to pursue as a career. Certain industries have proven to offer more job security and promise through challenging times and the aged care sector's unwavering growth and demand have prompted people to consider the many rewarding aspects of a career within it. Depending on personal circumstances, 2020 could be well-utilised towards gaining the necessary qualifications to thrive in a brand-new career.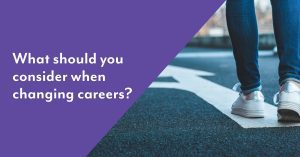 Reasons to consider changing careers
There are many reasons to switch careers, and gaining a clear understanding into why it's on your mind will help you to know what you're looking for next. Below are just a few of the key reasons that might be driving your desire to change careers. None are more valid than the others, but it is good to understand your own motivations to ensure that you can make the right choice if you do decide to head into a fresh direction.
Opportunities to grow
Regular training opportunities, professional development, progressing in your career – these opportunities are motivating and keep you passionate about what you do. If you find that your career is devoid of any room to grow, moving on could be worthwhile.
A workplace that suits you
From company culture to your physical workspace, being in a space that you do not feel aligned with is likely to make you want to move on. For example, if you're someone who can't stand to be sitting at a desk all day but your job requires you to do just that, it's probably a good reason to consider changing careers.
Feeling fulfilled at work
Frequently cited as a top reason why people leave a job, your personal level of job satisfaction can comprise of a number of reasons. Overall, finding a career that makes you feel fulfilled is very important for many.
Assessing whether changing careers is right for you
So how do you know that changing careers is the right move for you? There are a few things to consider before taking the plunge to make sure that you make the perfect decision for your individual circumstances and goals.
Before you quit your job and enrol into a course, take the time to ask yourself these four questions to decide once and for all whether changing careers is the right choice for you.
1. Is there any way my current career can improve to change my mind?
Revisit the previous section of this article and establish your reason for leaving. Don't make a rash decision — changing careers shouldn't be rushed. Once you have established your reason/s for wanting to pursue a new career path, ask yourself whether your current career could change enough to change your mind. For example, if you find you don't have any opportunity for upskilling or further training, could a meeting with your employer make a difference? If your current career can't give you what you are looking for, then a new career could be just what you need.
2. What am I looking for from a career?
Changing careers shouldn't be a wild goose chase. Know what you want to do with your time — support others, help people, sit at a desk, be up and about? There is no right or wrong answer, but to ensure your next career is fulfilling, you need to know what your goals are so that you can achieve them.
3. What are my priorities?
Knowing what is most important to you from a career perspective is incredibly valuable information. It can guide you to choose a career that best suits your wants and needs, and help you when it comes to choosing between job offers. Priorities can include salary, flexibility, location, training opportunities, company culture, particular hours, set shifts or rotating rosters.
4. Will a career change improve my life?
Big life choices should be made with the overall goal of making your current situation. The improvement might not be immediate, but when you're exploring your career options, make sure that ultimately your choice to switch careers will make your life more enjoyable or fulfilled.
Consider your new career options
Once you are confident that you are changing careers for the right reasons, it's time to work out what career pathway is the best option for you. While you might have your heart set on a particular occupation, that doesn't necessarily mean it is the right direction for you to take.
Things aren't always as they seem, so before you dive head first into a new profession, it's worth taking the time to explore a few details about the sector and roles you're interested in. Investigate your prospective career to find out whether it's going to meet your expectations.
Demand for workers
If you want to change careers, you need to know that there are job opportunities to be found within the industry, so check for demand and growth. For example, sectors such as aged care are booming and have a high demand for trained and passionate professionals.
Average salary
Knowing how much money you need to or would like to earn in the short and long term can help to focus your career change search. Look at whether an industry has an award under which it typically pays its workforce or if the average casual or full-time rates are aligned with your salary needs.
Structure, shifts and hours
Try to understand what a day in the life of someone working in your desired industry is like. Are roles typically casual, part time or full time? What are the daily tasks and responsibilities? Do hours tend to be set or on rotating rosters? Where are the jobs located? Are there opportunities to progress and upskill within this career?
Firsthand experience
No one knows the industry better than the people who work within it each and every day. Ask them about their experiences. The aged care trainers at Royal College are experts with years of hands-on experience making them valuable sources for insights into a career in the sector.
How you can change careers
If you have decided that a career change is the right choice for you to thrive, there are two main steps to make it happen. The first step is to choose a preferred career. The second step is to seek out the necessary qualifications or experience to begin working within your chosen industry.
When considering what career path is suited to you and what you are likely to really love, think about what interests you. If being outdoors is essential, look for jobs that involve being outside. If you like helping others, explore education and healthcare.
You might also like to consider your personal qualities and their suitability to particular careers. The top qualities for a career in aged care, such as a personal care worker include kindness, compassion and patience. While possessing all of the ideal qualities is not essential as many can be learned, having a few of them is likely to assist you in achieving your career goals.
Once you've decided on the career path for you, look into the requirements to get started. This might be a Certificate or Diploma qualification, and it may or may not require a hands-on practical placement component for added experience.
Choosing an aged care career
While you're considering changing careers, look into the many benefits of working in the aged care sector. The aged care workforce is growing and workers are in high demand. Pursuing a career in aged care you will enjoy a number of benefits including:
Fantastic job prospects in a growing industry
A career that enhances the lives of others
Plenty of opportunities to upskill, grow and progress in your career
Workplace diversity, with variety in each day
A rewarding career that makes a measurable difference in children's lives
Employment prospects are strong in the aged care sector, offering a career with plenty of promise. Australia's aged population continues to grow, as does the number of elderly people in Queensland. Figures from 2019 showed that around 800,000 Queenslanders were aged 65 and over, including over 90,000 who are aged 85 and older. By 2049 this figure is expected to be more than double. Planning a career in this booming sector is a wise career move, if you have what it takes to be a high-quality carer.
Whether coronavirus has prompted you to seek out a new career, you're looking for a fresh start or something else entirely, it's important that those who seek out a career caring for elderly individuals are looking to make a genuine difference in the lives of others — this role impact the quality of life of vulnerable people who deserve the very best care.
Changing careers isn't a decision that needs to be rushed, so take the time to go over your options and preferences. If you think you might be ready to make your next career move and head into the aged care sector, the Royal College team is here to support you. Get in touch today and commence your career journey.