A look at what makes a Royal College graduate
Aged care courses are offered at a number of training providers Australia-wide. So what is it that makes Royal College graduates stand out and succeed? We're immensely proud of the success of our graduates and make it our mission to give learners the skills and training they need not just to succeed in their studies but to continue developing this skill set out in the workforce.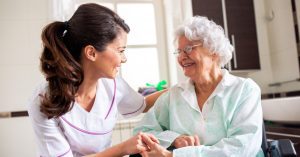 Our human-centred and holistic approach to learning provides our graduates with a strong foundation which they can build upon once they enter the aged care sector. Because our approach gives them support and room to grow, it's no exaggeration to say that our graduates go on to do great things.
The Royal College story
We are pleased to be one of Australia's leading Registered Training Organisations delivering fully-accredited courses and traineeships in the aged care and disability sector. For us it's about much more than delivering highly skilled employees to the sector – it's about bringing best practice and empathy to the forefront of aged care.
Our goal at Royal College is to raise the standard of care across the entire industry through education. The oldest people in our society are some of its most vulnerable, and it is our mission to enable elderly Australians to age with dignity and joy. We believe that having skilled and compassionate carers is the foundation of aged care.
One thing the pandemic has shown us is that working in aged care has its challenges. Our human-centred approach to learning puts is designed to give learners a well-rounded education so that they leave Royal College with everything they need to make a positive difference in their workplace, as well as the world around them.
Royal College graduates are valued in the workforce
Employers love working with Royal College graduates, and here's why:
Our graduates are supported
Learner support is one of the key pillars of our approach. At Royal College we believe that support means finding the right work/life/study balance for our learners on an individual basis, which is why we offer a range of resources and delivery modes. Our dedicated trainers and Learner Success Team are there to help learners every step of the way – so that no one misses out on opportunities to succeed.
Our graduates are adaptable
We want graduates to be able to enter the aged care sector with everything they need to feel rewarded in their new role. Our aged care courses focus on skills and knowledge which will enable our graduates to adapt to the pace and challenges of the workplace: skills like empathy, teamwork, initiative, problem solving, communication and observance.
Our graduates are compassionate
Compassion led care is the value which underpins everything we do here at Royal College. Australia's rapidly ageing population means that more elderly people need care than ever before, and our courses train learners to develop compassion through modules which cover medical skills, knowledge of bodily systems, diversity and building relationships with clients.
Our graduates support diversity
Culture and identity shape the ways we live and perceive ourselves, as well as how we relate to other people. Many elderly residents have different needs, whether this is because they speak a language other than English, have a diverse sexual orientation or religious beliefs, or because they are living with an illness or disability. Being aware of an elderly resident's language, culture and identity helps to build positive relationships and can ensure elderly residents feel empowered and understood. That's why our aged care courses include modules on caring for diverse elderly residents.
Our graduates have practical experience
Workplace training enables our learners to work and study at the same time, which is a great way to maximise both education and reward. Practical placement components are built into all our aged care courses so that learners get valuable experience and can put everything they've learned into practice. This prepares them for the workplace and ensures they feel confident entering the aged care sector when the time comes.
Our graduates want to make a difference
The thing we're most proud of is that our graduates genuinely want to make a difference. They leave us feeling confident, capable and inspired – and this is what makes Royal College graduates the best people to have on your team.
Build your best team with graduates from Royal College
Building your team can be challenging, especially in a demanding sector like aged care. At Royal College we specialise in training individuals to thrive in the aged care sector by giving them all the tools they need – practical and personal – to make an impact in the workplace.