Providing aged care for diverse residents
Many elderly residents have different needs, whether this is because they speak a language other than English, have a diverse sexual orientation or religious beliefs, or because they are living with an illness or disability. Understanding diversity means that you will be able to approach caring for the elderly with compassion and respect, making a huge difference to the lives and wellbeing of those you care for.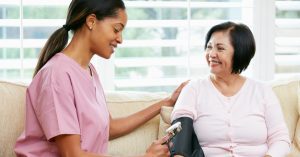 One of the best things about working in aged care is meeting and looking after an array of people from diverse backgrounds. Australia is a multicultural country, and this diversity is reflected in our ageing population. Culture, language and identity are important, because they affect the ways people live, think and feel.
Understanding diversity in aged care
Culture and identity shape the ways we live and perceive ourselves, as well as how we relate to other people. Being aware of an elderly resident's language, culture and identity helps to build positive relationships. It can also help elderly residents to feel empowered and understood.
Here's a snapshot of just how diverse our ageing population is:
More than 36% of Australians aged over 65 were born overseas, including 20% from a non-English speaking country.
There are over 100,000 older people from Aboriginal and Torres Strait Islander communities' in Australia.
More than one in ten people have diverse sexual orientation, gender identity or intersex characteristics
More than 80% of older Australians report an affiliation to a religion of some kind
One in twelve older Australians experience significant financial or social disadvantage
Over half of older Australians experience some sort of disability
One in twelve older Australians experience significant financial or social disadvantage.
In order to provide the best possible care, aged care needs to take all this into account. Diversity focused aged care caters for people with diverse social, cultural and linguistic backgrounds, gender, sexual orientation, and religious beliefs. It also includes people who may be living with a disability, dementia or facing challenges due to mental health.
Supporting diversity was a focus of the recent Royal Commission into Aged Care, which is introducing sweeping reforms to the aged care sector including better quality care, a higher-skilled workforce and improved governance.
This includes funding more than 33,000 training places for personal care workers to gain a Certificate III in Individual Support, improving care consistency and quality. This certificate teaches specific skills in working with diverse people as well as strategies for supporting individual needs.
Key ways to celebrate diversity
When it comes to caring for diverse aged care residents, it is important to develop effective strategies for encouraging cross-cultural communication, sensitivity and respect. Being aware of diversity means that aged care workers can respond to individual needs, ensuring that elderly residents maintain their dignity, freedom of expression, and sense of community.
Moving into an aged care home can be difficult for many reasons. Being away from family and friends can be challenging, and different language and cultural expectations can create barriers to communication between residents, families and staff. It's important to know about people's cultural needs, so that residents are able to build positive relationships and feel that they have choices and control over their lives.
While formal training provides a solid foundation for supporting diverse aged care residents, it's virtually impossible to know everything about all the ways Australians are diverse. Ongoing training and development provided by employers is crucial, but so is your own attitude to care. Aged care workers can provide appropriate and supportive care by being aware of diversity, and taking an open and considerate approach when communicating with elderly residents.
This might look something like:
Being aware of diversity and not making assumptions about people's culture, heritage, language, sexual orientation, ability or other individual circumstances
Understanding that no two people are the same (even if they appear to be from the same culture or background)
Learning what's important to the resident and what they need to make them feel comfortable and included. This might involve asking family and close friends to bring in photos, special possessions or mementos important to the resident
Approaching cross-cultural communication with patience and respect. This includes being aware of your own language and how it may affect people across cultures
Being respectful of other people's beliefs and customs
Finding out whether people have specific religious or cultural preferences when it comes to diet, lifestyle and daily routine
Being aware of resources (including experts) you can lean on for additional advice and support.
Aged care training with Royal College
As the population ages, the aged care sector has a responsibility to create an inclusive environment where elderly Australians can get fair and equal access to care. It's about respecting the dignity and human rights of all people.
Aged care workers can contribute to this by recognising, celebrating and supporting Australia's wonderfully diverse people and their families.
To get started on your aged care career journey, contact Royal College.