Care and Support on Mental Health Day
World Mental Health Day takes place on October 10, followed by Queensland Mental Health Week from October 10 – 18, 2020. The aim and message of these dates is to take the time for mental wellbeing by raising awareness, creating conversations and breaking stigma.
This year has had a prominent focus on mental wellbeing, with the 2020 pandemic bringing about many challenges for each and every one of us, notably healthcare workers who have continued to work tirelessly at providing care in difficult circumstances.
Let's take the opportunity this World Mental Health Day and Mental Health Week to check on our own mental wellbeing as well as that of those around us. We can work together to create meaningful conversations, break stigma and improve access to tools, strategies and resources so that we are all empowered to overcome setbacks for a brighter tomorrow.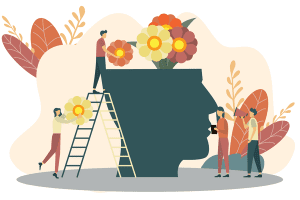 The wide-ranging impact of mental health struggles
Mental health issues can affect any person, regardless of their circumstances. No matter your age, gender, career, relationship or socioeconomic status, no one is immune to mental health struggles. BeyondBlue highlights that there are various points in our lives that make us more vulnerable to mental health challenges, such as when we are experiencing big changes in life. With one in four young people experiencing a mental health condition, and depression among the most disabling of these conditions later in life, it's important to note that mental wellbeing can be affected at any age. For example, Australia's senior citizens have had their mental health impacted, particularly those living in aged care settings during the coronavirus outbreaks. This has brought about anxiety, fear, depression and loneliness for many.
According to Health Direct, symptoms of mental health issues can range from behavioural to emotional to physical, including:
Sleep problems
Weight or appetite changes
Feeling anxious
Feeling sad
Feeling worthless
Changes in behaviour
Substance abuse
As well as being aware of how mental health troubles can present in ourselves and others, it's essential to know what to do next. There are also many strategies to manage mental health and enhance your wellbeing.
Self-care to enhance mental wellbeing
Speaking with a health professional is a great way of seeking out support for mental wellbeing. In addition, self-care is a good place to start if you are in need of resources to improve your mental wellbeing. The benefits of self-care are far-reaching and include reduced stress levels, increased levels of resilience and improved overall health. These are a few places to start to tackle your mental wellbeing:
Make time for things you enjoy
Try to do one thing as a minimum each day just for pleasure. It might be reading a book with a hot chocolate in hand, playing the guitar or watching your favourite show. You deserve it.
Exercise regularly
Research indicates that exercise is a highly effective way of managing mental wellbeing and its symptoms. Exercise releases endorphins which help to make us feel happy, so fit in any exercise you can manage each day, even if it's just a short walk to get started.
Meditation and mindfulness
Life can be overwhelming, but meditation and mindfulness techniques can help create some space and give you an escape. Mindfulness is highly effective in aged care settings, but it can be just as useful for anyone who wants to find some inner peace.
Reduce news and media consumption
The news has been a rollercoaster this year, to say the least. It's okay to switch it off and forget about the state of the world for a while. In fact, it's recommended, particularly if the news is making you sad or anxious.
Mental health and wellbeing support is available
There are many apps, online tools, phone lines, web and text chat services and more to support you when you need it most. It is also important to consider speaking to your doctor — they can help you with a mental health plan that will give you greater access to professional support to manage your wellbeing.
Keep these resources in mind for yourself, or to share with others:
Lifeline Australia –  Provide access to 24 hour crisis support and suicide prevention services.
Website: www.lifeline.org.au Telephone: 13 11 14
Beyond Blue – Provides information, and support for depression, anxiety and suicide prevention.
Website: www.beyondblue.org.au Telephone: 1300 224 636
Headspace – Provides young people with information and resources on mental health, physical health, work and study support, and alcohol and other drug services.
Website: www.headspace.org.au Telephone: 1800 650 890
1800 Respect – Provides 24 hour support to people impacted by sexual assault, domestic or family violence and abuse.
Website: www.1800respect.org.au Telephone: 1800 737 732
Mindspot – Provides free effective internet delivered psychological assessment and treatment for stress, anxiety, worry, depression, low mood, OCD and trauma (PTSD).
Website: www.mindspot.org.au Telephone: 1800 614 434
Kids Helpline – Provides private and confidential 24/7 phone and online counselling service for young people aged 5 to 25.
Website: www.kidshelpline.com.au Telephone: 1800 55 1800
National Debt Helpline – Helps people tackle their debt problems.
Website: www.ndh.org.au Telephone: 1800 007 007
Reaching out to one another and offering resources and care is a simple yet effective way we can support the wellbeing of everyone in our communities.