The value of aged care staff and the sector
At Royal College we work directly with the aged care teams who support our vulnerable elderly citizens. In providing high quality training to aged care workers, we see the valuable contribution they bring to communities across the country.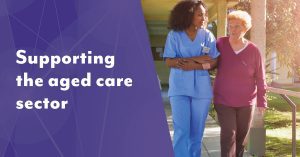 As we enter the third year of the Covid-19 pandemic, which has had a marked impact on the lives of the elderly and those in the aged care sector, we want to recognise just how valuable aged care professionals are. The pandemic pressure continues as aged care staff strive to maintain the quality of life for elderly care recipients, while also keeping them safe.
However, the resilient people in the aged care sector rise to the challenges they face. Aged care workers continue providing our oldest community members with the care they need to live with dignity and get the most from life at every age.
Aged care staff and facilities are vital
As a part of supporting aged care staff and the sector more broadly, it is important to understand the role of aged care in society.
Aged care provides elderly Australians with the support and care they need as they grow older. It's no secret that ageing can come with a variety of changes. Changes that may be experienced for elderly people include:
Altered or reduced mobility
Decreased function of organs
Memory and thinking skills change
Reduction in eyesight and/or hearing
Unsurprisingly, these shifts can impact the way we live our life. Older Australians may find they need more medical support than when they were younger, or assistance could be required with walking. Practical things such as shopping or running errands can become challenging. Difficulties with vision could mean an elderly person is no longer able to or willing to drive a car. Cognitive health changes might impact on their ability to life independently and stay safe.
Thankfully, the aged care sector has the skillset and knowledge needed to ensure that even the oldest members of our communities can continue to enjoy quality of life.
The value of aged care services
While families can be incredibly supportive, they are often grateful for the added support that aged care services and their employees offer. After all, for some family members they are juggling paid work, children and their own lives while also trying to care for an ageing parent or relative. In other situations, an elderly person may not have a family who is able and/or willing to take care of them as they grow older. Regardless of the reasons for accessing aged care services, their importance is undeniable.
The aged care sector recognises that aged care is not a one size fits all service. For this reason, aged care services come in all shapes and sizes to cater to the varying needs of elderly people. For those who want to continue to live at home but cannot do so independently, home care is an option. Home care involves trained aged care workers visiting a person in their home to provide assistance in a variety of areas. This includes running errands, helping around the house with tidying or cleaning, accompanying clients to medical appointments, and taking care of physical health including showering and dressing.
Residential care facilities are another option for those requiring aged care services. This is a live-in aged care space where clients can receive the care they need. This could be day-to-day hygiene, eating, medical care, support to attend outings and more.
Without these aged care services available, many elderly Australians would not be able to access necessary care to support them to be safe and well in old age.
The importance of compassionate carers
Aged care staff are the backbone of the sector, keeping our most vulnerable community members safe, seen and supported.
As well as fulfilling the needs of aged care clients as mentioned above — cleaning, dressing, medical care and so on — aged care workers frequently develop rewarding relationships with those in their care that are truly cherished. Their positive impact on the health and wellbeing of the elderly people they provide care directly contributes to quality of life and sense of worth for ageing Australians.
The team here at Royal College acknowledges your care, compassion, commitment that you bring to your work every day.
Have you considered joining the aged care sector?
Whether you just finished school, or you are seeking a change and after a career to thrive in, if you are a person who is kind and compassionate and wants to make a genuine difference in the lives of others, aged care could be the career path for you.
Not only does aged care present the opportunity to find a career that offers a sense of fulfilment that comes with caring for those in need, but it's a growing sector too. Quality aged care workers are in high demand to provide support for our ageing population.
The Royal College team are here to help you on your aged care career journey — connect with us here to learn more about how we train high-quality aged care staff to provide the best care possible.
Mental health resources for aged care staff
We must care for those who are caring for others.
If you're an aged care worker who has felt the pressure of the last few years or you are finding yourself requiring some extra support for your own wellbeing, please reach out. After all, as the saying goes: you cannot pour from an empty cup.