Study experience at Royal College
A career as a carer can be a rewarding path to follow. You have the chance to make a real difference in people's lives in a career with plenty of room to grow and progress.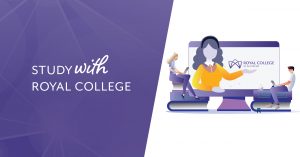 People of all ages are thriving working as care support workers, with young people increasingly turning to the aged care sector to find employment that can create change and bring meaning.
When current Royal College learner, Zacchary, finished school he felt unsure about what to do next but was inspired to explore a career in the sector.
A career with a sense of purpose
It was the right move for Zacchary, who commenced qualifications and fell in love with the job during his course placement hours. He notes that it's not uncommon for the sector to be misunderstood at times by those who don't work in it or don't know much about it.
So, what is it that makes working in disability care so appealing as a career path? Zacchary finds the rewarding nature of working in disability care centres around that sense of purpose that you get from having a positive impact on others.
"You're out there improving people's lives and helping people who don't necessarily have the same opportunities everyone else has."
Upskilling for career progress
Zacchary was already doing support work at a facility when his manager approached him with a new job opportunity doing community access facilitating. To embark on this career advancement, he was supported by his employer to upskill with the Certificate IV in Leisure and Health. This support from his employer has made Zacchary feel valued by his workplace and the qualification itself is ensuring he is well-equipped to do his best work.
The Certificate IV in Leisure and Health is a great avenue for those who are currently working in aged care or disability care and are looking to upskill and progress their career. The qualification delves into the specifics around designing leisure and health programs for those in disability or aged care, as well as implementing the programs and evaluating their impact and success.
Undertaking a Certificate IV in Leisure and Health (CHC43415) can provide opportunities to advance a career to more senior positions and explore work as a carer from a difference perspective.
Balancing life and the study experience
If you're exploring upskilling options, chances are you have considered how you can best manage the balance between working, studying and other life commitments — not to mention relaxing and having fun.
Zacchary finds creating an enjoyable work/study/life balance quite simple, thanks to being organised and having a supportive trainer. He explained that his trainer ensures he knows what dates tasks are due by so he can stay on top of everything, and he tries to fit his study in around the same time each day.
"Because I am working and studying in the sector at the same time, I try to do coursework after work while everything is fresh in my mind. It's good to jump on to it straight away."
Workplace delivery mode also means that the flexibility is there for you to incorporate your studies into your life the best way you see fit for your own circumstances. After all, what works best for one person may be different for someone else.
Trainer support every step of the way
That hands-on support from a trainer can make a huge difference to a learner's success when they are starting a course, whether it's their first course or for upskilling their skills. Zacchary explains that his trainer has been invaluable, helping to make sure that he is on track with his course at all times:
"With Royal College, my trainer is amazing. She pushes me to make sure I get everything in on time. She's just a great help and I learn so much from her."
Royal College trainers have a wealth of their own sector insights, experience and knowledge to impart with learners and help them on their journey.
Creating valuable care experiences
Creating care experiences that improve the lives of the people you work with is at the heart of a leisure and health role. Part of this is working with other care providers such as physiotherapists to ensure that a person's care program is fitting with their needs.
Joining in with the activities is also an option in some instances. This can help to strengthen the bond and trust between carer and client, making a role in leisure and health a valuable part of how care is approached and delivered.
For anyone else considering getting qualified as a carer and looking at leisure and health as an area of interest, Zacchary highlights what he believes are three key qualities to help you thrive:
"Organisation is definitely important, and creativity, and passion for the people you provide care for."
If the Certificate IV in Leisure and Health sounds like it might be the right direction to take your career where you want it to go, get in touch with Royal College and we can help you get started.