Career insights from an aged care trainer
When researching aged care as a potential career path, it is always beneficial to ask someone with ample experience and a deep understanding of the sector for insights. Thankfully, Royal College aged care trainer Susan Pedwell has plenty of career insights to offer.
It is interesting that many who enjoy fulfilling careers in aged care, didn't initially consider the aged care sector as an option. This is the experience that Susan had, and she explained that an aged care career chose her.
Starting but walking away from nursing training in her youth, Susan worked in many customer service-based roles until she was approached to be a carer for an elderly relative of her husband's. The relative had dementia and was high care, so she provided support and care for a couple of years part time, almost like a hobby. From here, Susan realised that providing care during a person's senior years is quite similar to her original career plan — nursing.
Aged care professionals enter the sector at a variety of ages and life stages. For Susan, it wasn't until her 40s, but there is no right age — anyone can enjoy an aged care career!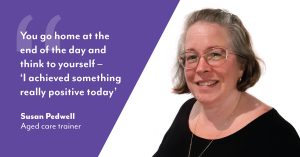 Advancing in a career in aged care
For those looking to work in aged care with a view to progress and grow, there are plenty of directions a career in the sector can set you on the path toward, right through from leadership positions to nursing qualifications. Susan encourages everyone working toward or in the aged care sector to explore the many pathways available to them to advance their career.
Starting with a Certificate III in Individual Support (CHC33015) is the best approach to commencing a career in the sector. Depending on your state, you will need to be currently studying (also known as 'working towards') or have completed this qualification to enter the sector and start working as an aged care worker.
Professional development is set to have a renewed focus for aged care in light of the Aged Care Royal Commission, and there are many avenues to upskill and progress your career.
"Commencing an aged care career is perfect as a stepping stone towards specialising in leisure and health or disability care."
Leisure and health is a growth area to consider when upskilling, focusing on supporting elderly individuals to stay active and keep the body moving, while disability care provides much-needed care to those who need it most.
Through aged care training, you can even gain credit towards a nursing qualification, not to mention invaluable experience that will lend itself greatly to thriving in a career as a nurse.
Empathy and compassion for a rewarding career
When working in aged care, you can incorporate your own understanding of people, life and the world alongside the knowledge and skillset gained through your training. In fact, personal qualities are highly valued in aged care such as empathy and the ability to read body language and understand others.
It's common to hear those who work in aged care describe their career as rewarding, satisfying and fulfilling, and Susan agrees. This satisfaction comes from the fact that your job role centres around helping someone else. Not just anyone — someone who genuinely needs help and, in most cases, appreciates everything that is done for them. In Susan's words:
"I absolutely adore working in aged care. You go home at the end of the day and think to yourself, 'I've achieved something really positive today'. I've empowered someone to achieve something, even if it's as simple as getting out of bed and having a shower".
With any career, there are factors that are unique or even challenging. In aged care, shift work is an aspect that some people enjoy, while others may take a little time adjusting to it. It's also quite a physical role, rather than a career that will see you sitting behind a desk all day.
"It's about having empathy and a level of intuitiveness and a sense of ownership of the job."
At times in aged care you will be faced with people's sad life stories, confronting and life-limiting illnesses, and even instances where you have to deal with people passing away. However, doing your job well and using your compassion and empathy means that you are making someone's life easier, supporting their wellbeing and enhancing their ability to find happiness and contentment.
"We do this job because someone needs help and we are there to be able to deliver it."
Supported aged care training journey
Royal College trainers such as Susan believe in the power of support for learner success. This means Susan spends a lot of time supporting learners during their aged care training process, which involves lots of communication, including phone calls, emails, video calls and face-to-face meet-ups.
Aged care is a hands-on job, so applying the knowledge in a practical setting is important too. Susan explains that to give learners this opportunity, simulation days are run in which learners can attend and run through manual handling, using hoists and other necessary physical aspects of aged care work. This means learners can head into placement and complete their training feeling confident and capable of their ability to apply what they have learned.
A fulfilling career in a growing sector
Aged care is a sector that continues to expand across Australia, and along with it grows the demand for high quality carers. Whether you are choosing aged care, or you feel like aged care is choosing you, seeking out exceptional training is a must for a thriving, fulfilling career.
Contact Royal College to see how we can support you through your aged care training journey.