Ready for a career change? Pivot to an aged care career
Care careers add meaning to your life and are fulfilling in a way that not many other career paths can offer. For the brilliant people who are currently working or have worked in the care sector, it's hard to imagine doing a job without a sense of purpose.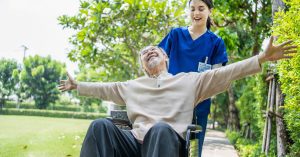 Working as a carer, you still might feel inspired to change up your career though. The pandemic has been a driver for people to explore other career options, or maybe it's just time for a change. Don't worry though — there are care roles to venture into that may be different from what you have worked in previously.
For those who have worked in disability care, it's worth considering a move into the aged care sector. With huge growth and compassion and quality carers in high demand, now is a great time to look at how you can transfer the skills you have already acquired in disability care and apply them to support the elderly.
Disability care and aged care: understanding the differences
They difference between aged care and disability care are suggested at in the name — while the disability care sector provides support to those living with disability, aged care is directed at meeting the needs of people as they age.
The areas of study to gain the required qualifications to work in the disability care sector centre around empowering people with disability and understanding bodily systems and health needs for people based on their disability. In aged care, the focus is on empowering the elderly and maintaining quality of life as people age and recognising the evolving needs of older people.
It's worth noting that there is also plenty of overlap between disability care and aged care. This is because there are a large number of elderly people who are also living with disability, and so they may require both types of care to meet their individual needs. There are many study areas that are alike across qualifications for both sectors, including providing individualised support, working with a diverse range of people and supporting people's independence and wellbeing.
Switching careers from disability care to aged care
For a disability care worker with a passion for providing care combined with a thirst for a career change, an aged care career is a promising avenue to explore.
To move into the aged care sector, a disability care worker can simply upskill their existing qualifications from a Certificate III in Disability to the Certificate IV in Ageing Support. This Certificate IV qualifications will equip you with the knowledge and skillset required to provide elderly people with the support they need to get the most from life and maintain independence in old age.
The flexibility of having both disability care qualifications and aged care qualifications will ensure you stand out in the job market as a highly skilled care worker across multiple fields. You can broaden your understanding of both care sectors, while expanding your job opportunities.
Specialised care is a must
Individualised care should always a priority in any care sector, and so too should specialised care. While there are definitely areas where care provision is similar across disability care and aged care, having an in-depth understanding of the unique nature of each specialisation is vital to provide the best care possible.
The Certificate IV in Ageing Support allows learners to really hone their skills and become even more specialised to help people who are in need. Undertaking workplace training to achieve this qualification, you will be able to work in an aged care setting and earn while you learn the essentials to deliver high quality aged care.
Units cover areas you will be familiar with while deepening your knowledge. You will also be introduced to new aged care-specific focus areas, such as coordinating services for older people, interventions for older people at risk and facilitating the empowerment of the elderly.
The professional and personal benefits of a career change
There are countless reasons why you might be considering a career change, and there are also countless benefits of following through with it. The benefits of switching up your career extend not only to professional perks but person gains too.
Professionally you can expect:
Improved job prospects
Further skill development
More control over your career
Opportunities to continue to upskill
Potential for increased income
On a personal level, you will find that you have many benefits to enjoy, including:
Renewed passion for your work
Fresh challenges
A new routine
More control over your
Sense of pride that comes with accomplishment
Develop new relationships and meet new people
Increase adaptability
Continue to make a difference for those in need of care
All care work is crucially important in every community. If you already have disability care qualifications and you feel that changing up your career to aged care will help you grow professionally or refresh your career path, we can support you.
The team here at Royal College can help you learn everything you need to know about switching careers from disability care to aged care. Get in touch to explore a career change that allows you to continue your great care work for those who need it.