COVID-19 and aged care – Special report
Coronavirus (COVID-19) presents risks to older individuals, who are especially vulnerable to respiratory diseases.[1] The United Nations reported in May,2020 on the 'devastating toll' that the spread of COVID-19 in aged care homes was having on elderly people's lives.[2]
The public health crisis of COVID-19 has disproportionately affected the aged care sector in Australia. It's a tragedy that aged care residents continue to suffer and, poses the real threat that many more elderly individual's may lose their lives as a result of COVID-19.
As it is uncertain how long this pandemic will last, a brief special report was prepared by the Royal Commission into Aged Care Quality and Safety to address specific COVID-19 issues ahead of their Final Report, which will be delivered on 26 February 2021.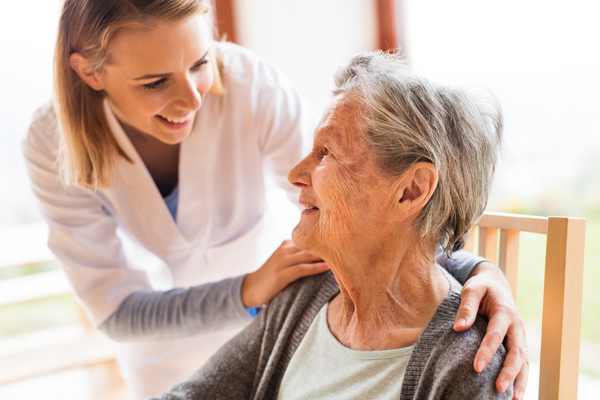 Response to a pandemic in aged care
When the pandemic hit Australia, there wasn't a COVID-19 plan specifically devoted to aged care rather a national COVID-19 plan that was adapted to the aged care sector. The national plan, the Australian Health Sector Emergency Response Plan for Novel Coronavirus (COVID-19) (Health Sector Plan), was developed in January 2020 and published on 18 February 2020. On 27 February 2020 it was activated by the Prime Minister in anticipation of a pandemic.
Early in 2020, both the Australian Department of Health and the Aged Care Quality and Safety Commission established taskforces dedicated to COVID-19. The role of the Commission's taskforce was to manage strategic and operational issues in relation to COVID-19, responding 'as required to issues or needs which arise, quickly and flexibly'[3]. This report is part of the work done by this Commission.
Recommendations for immediate action
The special report has advised that people receiving aged care services, their loved ones, those providing care and the aged care sector itself need immediate support and action.
Within the limits of this special Aged Care COVID-19 inquiry four major areas via six recommendations have been identified and should be undertaken to support the aged care sector according to the Commission.
Recommendation 1
The Australian Government should report to Parliament by no later than 1 December 2020 on the implementation of these recommendations.
Recommendation 2
The Australian Government should fund providers to ensure there are adequate staff available to deal with external visitors so that the Industry Code for Visiting Residential Aged Care Homes during COVID-19 (Visitation Code) can be modified to enable a greater number of more meaningful visits between people receiving care and their loved ones.
Recommendation 3
The Australian Government should create Medicare Benefits Schedule items to increase the provision of allied health and mental health services to people living in residential aged care during the pandemic to prevent deterioration in their physical and mental health. Any barriers, whether real or perceived, to allied health and mental health professionals being able to enter residential aged care facilities should be removed unless justified on genuine public health grounds.
Recommendation 4
The Australian Government should publish a national aged care plan for COVID-19 and establish a national aged care advisory body.
Recommendation 5
All residential aged care homes should have one or more trained infection control officers as a condition of accreditation. The training requirements for these officers should be set by the aged care advisory body we propose.
Recommendation 6
The Australian Government should arrange with the States and Territories to deploy accredited infection prevention and control experts into residential aged care homes to provide training, assist with the preparation of outbreak management plans and assist with outbreaks.
–
[1] A Clark, M Jit, C Warren-Gash, B Guthrie, H HX Wang, SW Mercer, C Sanderson, M McKee, C Troeger, KI Ong, F Checchi, P Perel, S Joseph, A Banerjee, H Gibbs, CMMID nCov working group and RM Eggo, Global, regional, and national estimates of the population at increased risk of severe COVID-19 due to underlying health conditions in 2020: a modelling study, 2020, https://cmmid.github.io/topics/covid19/Global_risk_factors.html and https://www.thelancet. com/journals/langlo/article/PIIS2214-109X(20)30264-3/fulltext, viewed 11 September 2020.
[2] United Nations, Policy Brief: The Impact of COVID-19 on older persons, May 2020, p 3, https://unsdg.un.org/sites/ default/files/2020-05/Policy-Brief-The-Impact-of-COVID-19-on-Older-Persons.pdf, viewed 11 September 2020.
[3] Exhibit 18-21, Sydney Hearing 2, Statement of Janet Anderson, WIT.0772.0001.0001 at 0007 [33].