Our top tips for working in aged care
With the aged care sector growing and evolving, now is the perfect time to work towards a career in aged care.
This career path provides you with the opportunity to enhance the lives of those in need while contributing to creating a society that is compassionate and caring. Working in aged care gives you a career you can truly be proud of, so find out how you can flourish in the sector.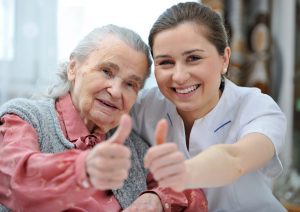 Tips to thrive working in aged care
An aged care career is a career for those who enjoy helping others. At its core, working in aged care improves the quality of life for those who are most vulnerable in our communities and require daily support. On top of a commitment to dignified care for the elderly, there are a number of tips you can take on board to succeed in a rewarding aged care career:
Be patient and understanding
By focusing on increasing your patience you will be able to stay focused and calm on the job. This can be especially helpful in situations that might be challenging or urgent. It's important to remember that those in your care can at times feel confused or frustrated and things may simply take time.
Polish your communication skills
Effective communication is vital in any job, and is particularly useful in aged care. Speak clearly and at a steady pace, slowing down if needed. Making eye contact is a good tactic along with open and relevant body language. Communication is about listening too, so focus on being an active listener to ensure that you can create and maintain strong bonds with clients.
Be flexible
Things won't always go to plan, and being flexible and able to adapt can be a useful attribute in aged care. Make sure you put the client's health and wellbeing at the forefront.
Stick to policies and procedures
Rules are in place for a reason, and it's important to follow them, especially in aged care when the health and safety of others is at stake. Always make sure you are across best practice when it comes to documentation, staff ratios and rules around handling, to name a few.
If in doubt, ask
There's no shame in asking a question — in fact, it is often the smartest thing to do. If you are not sure about something when doing your course, practical placement hours or when your career commences, simply ask until you learn the answer.
Highlights and challenges in aged care jobs
Working in aged care is a gratifying career supporting those who need it most. Each day at work in aged care you are making a genuine difference to people's lives. In addition to the personal fulfilment that comes with an aged care career, there are a number of other highlights, such as:
Variety of positions and shifts
With a variety of roles to explore in the sector and varying hours and shifts, aged care offers a job style to suit a range of circumstances.
Future-proof job security
The demand for quality aged care professionals continues to grow along with Australia's ageing population, and is predicted to maintain strong growth for many years to come. This means aged care provides excellent job prospects and long-term job security.
Evolving sector
With the Royal Commission into Aged Care complete and recommendations handed down, is it clear that the sector is set to change for the better. Improvements expected include increased salary for aged care workers, improved working conditions and more training for a highly skilled workforce.
Of course, every job has its challenges and aged care is no different. Here are a few questions or assumptions that we often hear when it comes to the challenges:
'Are aged care courses hard?'
The answer to this will vary between learners, but generally an aged care course is not regarded as being harder than any other course at the same level, such as Certificate or Diploma. Often it comes down to who you choose to study with and what support you receive on your training journey. At Royal College our dedicated trainers make sure learners are given all the help they need to succeed from the beginning of their course right through to the end.
'Is the work physically demanding?'
Aged care work can be quite physical and you are on your feet for long periods of time. There are plenty of aids to ensure you can assist ageing clients using hoists and lifts rather than needing to compromise your own body. Safety is paramount in aged care and you are given ample support.
'How long does it take to complete an aged care course?'
In as little as 12 months you can complete your aged care course and commence your career in this rewarding sector. Your course includes a practical placement component too, so you will also have hands-on skills and experience under your belt by the time you have graduated.
Practical skills to prepare for an aged care career
Practical placement is a highly valuable element in the aged care training journey. While learning in a simulated environment comes first, for many undertaking an aged care course the practical placement component plays a crucial role in cementing the theory they've been learning.
The Royal College team supports learners in finding a suitable facility to undertake practical placement with and ensures that support continues throughout placement. Our practical placement logbooks enhance the placement experience further, giving learners the opportunity to reflect on what they are learning and self-assess the progress they are making both with their practical skills and soft skills on the job.
Working in aged care: career outcomes
Once you have completed your aged care qualifications, you gain access to a range of aged care jobs to kick off your career in the sector.
Entering the sector starts with a Certificate III in Individual Support (CHC33015). Learn the knowledge and skills you need follow care plans and provide optimal care for ageing individuals, including recognising healthy body systems, empowering older people, assisting with medication and more. With this qualification behind you, you might explore a career such as:
Home care assistant
In a career as a Home Care Assistant, you will support older individuals with their daily needs within their homes. You may assist them in running errands and preparing for outings, sometimes including transporting clients and even attending with them. Your role also provides companionship to your clients, promoting their emotional wellbeing. In order for your clients to continue to live comfortably in their own homes, you may be required to assist with housework around the home and other tasks they are unable to complete themselves.
Residential care worker
As a Residential care worker in an aged care facility, your role focuses on taking care of the general needs of ageing individuals residing in the facility. You will assist clients with their essential day-to-day needs. This includes grooming, eating, personal hygiene needs, showering and bathing. Your work will contribute to your clients' overall wellbeing and you may spend time engaging them in activities, offering emotional support and monitoring their health.
There are many course options to look into when it comes time to advance your aged care career. You might want to specialise in disability care with a Certificate IV in Disability (CHC43115), or the Certificate IV in Ageing Support (CHC43015) to take on aged care roles with further responsibilities including leadership positions. With a Certificate IV in Leisure and Health (CHC43415) working in aged care might lead to a role like:
Program coordinator
This role involves designing and developing a program of activities for older clients that works in tandem with care plans provided by other health care providers. You will devise activities that will encourage social interaction and develop a sense of community with their peers. Your role as care program coordinator will see you liaise with other care professionals, sharing information that will help assist individuals and groups to enjoy a greater quality of life in their later years.
The rewarding nature of working in aged care
The aged care sector offers excellent career prospects for those looking to change the lives of others for the better.