Fostering strong relationships in aged care
A residential care facility is a workplace for aged care workers and a home for the elderly. It should feel like a community, build on meaningful connections and a high standard of care. To build a strong and happy community, a focus on strong relationships is essential.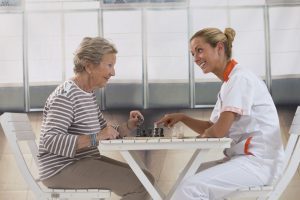 The relationship between aged care workers and their residents contributes greatly to the quality of life for the elderly and the quality of care they are receiving. After all, for many residents in aged care, the aged care workers within their care facility are among the only people they see and interact with.
Positive relationships in aged care can raise the standard of care as well as the standard of workplace conditions, creating a space that is enjoyable and respectful for all. This in turn makes the aged care sector more appealing for those entering the sector and helps to build a high-quality workforce.
As we work to overhaul aged care in line with the Royal Commission and create a sector that is renowned for a high standard of care, relationships should be at the heart of what we do.
Tips to build relationships in aged care
Strong relationships can be built with a few strategies to get to know one another better. Ensure you are taking the steps to build a foundation that will underpin valuable relationships in aged care settings.
Be attentive
When you have a list of things to get to in the workplace, you can easily become hyper-focused on what you need to do. Make it your mission to ensure you are attentive when you have exchanges with the elderly people in your care. Not only will it make them feel seen and heard, but it can actually help you to better understand their wants and needs. The little things often make the biggest difference such as eye contact and body language that shows you acknowledge them.
Ask questions
Asking questions is a great way to build a strong connection and foster meaningful relationships in aged care. When you ask a person questions you can learn more about them and showing that you care. There are questions such as 'How are you today?' or 'Do you need help with anything?', and then there are questions like 'What is your family like?' or 'What is a place you always loved to visit?'. You'll be amazed at some of the amazing stories elderly people have to share.
Follow up
If you say you will do something, it's important to make sure you remember to do it. Your elderly residents are counting on you, so make notes of anything you say you will do and follow through on your word. Not only does this ensure your residents are getting what they need, but it builds trust which is a key cornerstone for a strong relationship.
Stay aware
The various elderly people you interact with may have varying levels of ability when it comes to communication, hearing and other areas. Make sure you stay across their abilities and take measures to overcome any challenges. For example, if a resident lives with impaired hearing, put in the effort to ensure that you have understood them correctly.
Be compassionate
Empathy and kindness are free and can make an enormous difference to a person's day, week and even their life. Express your empathy to those in your care by acknowledging how they might be feeling in a certain situation. If they have been experiencing discomfort and having trouble sleeping you might say 'You must be tired, do you need me to turn the light off for you to get some rest?'. Keep a person's dignity at front of mind at all times, even when things seem challenging. Look for ways to make that human connection wherever possible.
The variety of relationships in aged care
Relationship building in aged care extends beyond the carer-resident relationship. In the aged care sector there are a variety of relationships that need to be managed and strengthened, including:
Aged care workers and managers
Aged care staff and families
Aged care facilities and community
Working to foster positive relationships within each dynamic across aged care contributes to creating a better way forward. Similar strategies apply to these relationships:
Communicating effectively with one another (this includes active listening and body language)
Creating a trusting bond through following through on your word and being open and honest
Being empathetic and acknowledging how someone else might be feeling
The end result will benefit everyone, allowing collaboration and understanding to ensure the best care possible can be delivered at all times.
A human-centred approach to training and care
Aged care is all about people supporting others in need. It makes sense that aged care training takes a human-centred approach.
A human-centred education approach aims to marry the essential practical skills and theoretical knowledge required to be an aged care worker with interpersonal skills and human qualities. Things like empathy, communication, problem-solving and teamwork. The result: a more caring and compassionate approach to the workplace.
For example, our practical placement journals focus on critical reflection and self-awareness, encouraging those entering the aged care sector to understand themselves and their own growth. This human-centred approach is fortified by our trainers who offer support and experience to guide learners through the aged care training journey.
Better relationships for a better future
Shining a light on the quality of relationships in aged care will go a long way toward lifting the quality of care and quality of the aged care workplace.
Effective relationships are about working together and understanding one another. With a renewed focus on fostering meaningful connections, aged care will be a better place for everyone.
For more information on careers in aged care, we can help you out. Simply contact us today!