Why fibre is so vital for your aged care clients
Nutrition is important at every stage in life, and it's certainly vital to eat well for good health as we age. Working in aged care part of your role might involve assisting older Australians with their shopping, cooking or eating. This means you can help them to make healthy choices for their bodies.
The importance of fibre in aged care
Fibre is a nutrient that we all need to consume daily. Along with aiding digestion, fibre has been linked to a range of additional heath benefits, including:
Lower obesity risk
Reduced risk of type 2 diabetes
Lower risk of heart disease
Reduce the risk of bowel cancer
Older indiviudals can experience reduced appetite or reduced ability to eat, which can interfere with adequate intake of essential nutrients. Consuming fibre becomes more important for older individuals as the digestive system slows with age too.
According to Better Health, low fibre diets contribute to many disorders such as:
constipation – small, hard and dry faecal matter that is difficult to pass
haemorrhoids – varicose veins of the anus
diverticulitis – small hernias of the digestive tract caused by long-term constipation
irritable bowel syndrome – pain, flatulence and bloating of the abdomen
overweight and obesity – carrying too much body fat
coronary heart disease – a narrowing of the arteries due to fatty deposits
diabetes – a condition characterised by too much glucose in the blood
colon cancer – cancer of the large intestine.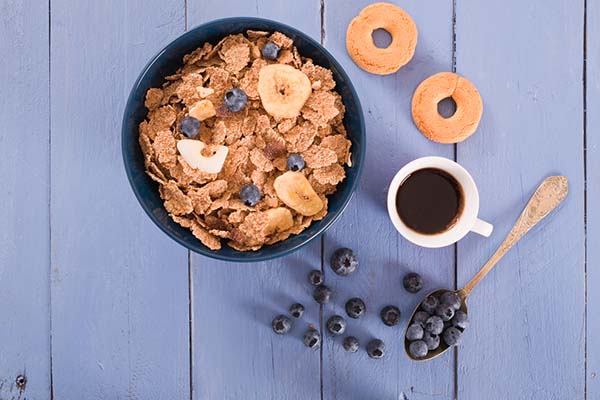 Increasing dietary fibre in aged care
Including more fibre in the diet of the older individuals in your care doesn't have to mean a diet overhaul.
Every meal and snack is an opportunity to do something healthy for the body, so wise choices are important.
These tips can help to increase daily fibre intake:
Choose wholegrain or wholemeal options where possible: this could include bread, pasta, rice or flour.
Find a wholegrain cereal that is tasty: your clients could enjoy it as a breakfast or snack option.
Read the labels: aim to offer those in your care food that has at least 4 grams of fibre per serve.
If fibre intake has been low, it can be useful to increase intake slowly to avoid issues with wind. Water intake is important alongside fibre intake too as dietary fibre absorbs fluid – urine that is clear or pale yellow is a good sign that fluid intake is sufficient.
Good nutrition can have a noticeable positive impact on the lives of those in your care. Do your best as an aged care worker to help older Australians make wise diet choices so they can feel the difference in their quality of life.
Sources:
https://www.healthdirect.gov.au/high-fibre-foods-and-diet
http://www.nutritionaustralia.org/national/resource/nutrition-and-older-adults
https://www.betterhealth.vic.gov.au/health/healthyliving/fibre-in-food