Choosing a quality training provider: it's vital
Having a highly skilled team for your aged care workplace is essential. After all, your employees are the lifeblood of your organisation. The better their training, the better your aged care business runs. When it comes to providing your team with training opportunities, whether it's to refresh their knowledge and ensure best practice, or to support them with upskilling, choosing a training provider is more important than you may realise.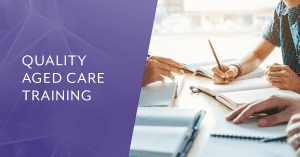 Taking the time to make sure that your chosen training provider is offering the highest quality training for the aged care sector can make all the difference to the outcomes for the individuals in your team, and in turn the outcomes for your organisation.
Highly skilled workers raise industry standards
To maintain, and ideally raise, a high standard of care in the aged care sector, quality training is a must.
The aged care sector is currently in the midst of an overhaul. The Royal Commission into Aged Care findings highlighted the need for a renewed focus on quality training across the sector. The recently-released recommendations that followed are set to result in the mandating of more training across the sector. The goal is that the aged care sector will employee a workforce of highly skilled, compassionate carers who are committed to and capable of delivering the very best care possible.
High quality training provider for high quality aged care employees
When you commit to training from a high quality provider, you can be confident that you and your team will maximise the outcomes from your training. A high quality training institution ensures well-trained individuals and skilled workers for employers, achieved through a combination of crucial factors for an approach to training that is second to none.
First and foremost, learners must be supported. Whether it's the first course they've undertaken or they're experienced with vocational training, it's important that learners who are undertaking studies feel they can reach out for assistance as needed. Support isn't one size fits all — tailored support means that there is the right kind of help available for those who require it, from general coursework questions through to literacy and numeracy support.
For training to be high quality it should be designed with the real world in mind. Course material that is relevant and up-to-date to reflect current best practice in the sector is vital. Practical placements incorporated into the course ensure that those new to the aged care are able to gain on-the-job experience through their training journey.
An effective training experience doesn't just focus on practical skills — it marries them with human qualities and interpersonal skills. These 'soft skills' are transferable and valued greatly in aged care. Learners should be encouraged to reflect on and develop their ability in areas such as communication, empathy, patience and adaptability.
Ultimately, high quality training providers strive to develop job-ready graduates who enter or advance employment skilled and with confidence. For employers and organisations, this means a productive workforce that is capable of making sure your business shines.
Recognising high quality training for your sector
If you're an employer looking to support your team in professional development, upskilling or any sort of training endeavours, it's important to know how to tell a quality training provider from the rest.
There are a few elements that will help you identify a high quality training provider:
Quality providers should offer nationally accredited courses
Any training your team undertakes should be nationally accredited or nationally recognised. This means the courses meet established industry requirements as per the national regulator, the Australian Skills Quality Authority (ASQA). Ensure your team's training is delivered by a Registered Training Organisation and that the course is meeting nationally approved quality standards.
Look for specialists in your sector
Some RTOs specialise while others provide courses in just about every sector. If you're looking for the best of the best, an RTO that is a specialist in courses for your sector is more likely to deliver a higher standard of training. You want a training provider who knows your sector inside and out and can understand your organisation's unique needs and desired outcomes.
Research their training outcomes
Consider what training outcomes the training provider emphasises. You want your employees to graduate with more than just a piece of paper. Qualifications should entail an individual graduating with practical skills, in depth industry knowledge, understanding and confidence. Is their training competency-based with sector-relevant outcomes to help your team and business flourish? Your desired outcomes and the RTO's should be aligned.
The Royal College difference: how we help employers and business
At Royal College we help individual learners to reach their aged care career goals. We also support organisations within the aged care sector to reach their business goals and shape a productive, highly skilled, confident workforce.
We achieve this by committing to key factors that maximise outcomes and ensure we are a consistently high quality training provider:
Sector experts in aged care
We only provide training for one sector: the aged care sector. By limiting our course offering to aged care only, we have been able to dedicate all of our time to understanding everything there is to know about aged care and what the sector, its employees and its organisations need to reach their full potential.
Experienced trainers
Our trainers are sector experts with a wealth of experience committed to aged care. They are sector-experienced, with their own career history working within the sector they now train in. They have stories to share from their aged care career journeys as well as the expertise required to deliver top tier support to learners.
Practical skills and theoretical learning
The value of training doesn't only lie with one approach but the way the theory and practical education can be combined and applied. We ensure that our learners get support with both practical and theoretical training, and make the connections between the two to give their best when it comes time to learn on the job.
Strong relationships with employers
When we support organisations with training their team members, we make it a priority to get to know the business and its needs. Our team works with employers to find out what they want to accomplish and we create a training plan to make sure needs are met.
Flexible training delivery modes
Balancing life and work can be tricky, let alone when you throw studying into the mix. With flexibility, support and understanding, Royal College learners are able to study while they work and gain a fulfilling training experience.
For quality training, choose Royal College
If you're ready to level up your workforce and see your organisation flourish, get in touch with Royal College. We can work with you and your team members to help you achieve your goals in aged care.