Celebrating safely with elderly loved ones
This time of year is well known for being a time to enjoy alongside our nearest and dearest. Families like to come together to share food, gifts and fun, partaking in traditions and creating lasting memories. Older family members however may not be able to participate or be as involved as they once were.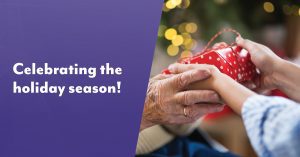 This can be for many reasons, including poor health or health concerns, limited mobility or being unable to travel, or family being too far away. In some instances, elderly people may not have living relatives or friends to spend this time with.
For many elderly Australians, the festive season can be a time of loneliness, but we can all help to change that. Throughout the pandemic we encouraged families and carers to get creative about ways to include and support elderly people when visitation was not possible. As Christmas approaches, it's important that we yet again look at the best approach to ensuring ageing individuals are not left feeling isolated, lonely or forgotten these holidays.
Combatting festive season loneliness
Festive season loneliness can happen to anyone, but it is especially common in elderly people. Some may feel left out of celebrations or like a burden due to their age, location or abilities. This can happen to elderly people who are living in residential care or those who are still living at home.
If you are working in aged care supporting elderly people, or you have relatives who have reached old age, think about how you can put the effort in to help to overcome any feelings of loneliness this Christmas. We have come up with some ideas for you to incorporate into the festive period.
Keep in mind that elderly people are more prone to serious illness with covid-19, as well as other illnesses or injuries. While communities are opening up following ongoing lockdowns throughout the pandemic, it's still vital to stay safe and consider health when planning. Consider this during the busy holiday period and plan accordingly and inclusively.
Tips to for safe festive celebrations with the elderly
Always be sure to run ideas by the individuals in your care too. They may have ideas or preferences of their own to incorporate.
Let's start with options for when the elderly people you care for are able to comfortably go out and about:
Take a drive to see Christmas lights
The bright lights of Christmas adorn houses this time of year. Some are simply incredible! Simply by heading out for a drive you can immerse in the joy and festivities by driving past local houses to admire their light displays. Jump online or in local community groups to find out where the most impressive streets and homes are to enjoy!
Attend local events
Christmas carolling, festivals, shows — there is always plenty to see and do in local communities this time of year. Check with local council, community groups or churches to find out what's on and have some festive fun.
Make the most of the weather
Our beautiful summer Christmas means that it's a perfect time to get outdoors. A picnic at a park, a stroll through local gardens or parking to overlook the beach can be a fulfilling experience to share.
Not able to support an elderly person to be mobile at this time? Not to worry — there are plenty of options even going out is not an option:
Get decorating
Bust out the tinsel and baubles and bring the festivity into an elderly person's room or home. If you're a carer in residential care, be sure to advocate for decorating the communal spaces too. Feeling like you're part of the festive cheer is important.
Enjoy tasty holiday treats
Christmas cookies, puddings, mince pies — there are many delicious festive foods to enjoy. Try making or providing these for elderly individuals and enjoy a taste of Christmas together.
Explore Christmas classics
Most people have a favourite Christmas movie or Christmas songs they enjoy. Revisit much-loved Christmas classics with movies and music that will bring a smile.
Finally, at times distance, illness or other circumstances mean that being with an elderly person during the festive period is not possible. Here are ways you can continue to ensure they feel connected and included:
Create time to connect
It doesn't take much to arrange a phone call, or better yet a video call, to send love and best wishes this time of year. This simple gesture can make a world of difference to someone feeling lonely at Christmas. Whether it's a family member, neighbour or a person in your care, let them know you're thinking of them.
Send letters and cards
Who doesn't love receiving mail? Better yet, a stuffed envelope full of drawings from children, photos and a card that shows you're thought of at Christmas. Too late to deliver? Explore utilising email and other technology with the elderly to support them in staying connected.
Bringing happiness to others these holidays
Supporting elderly Australians to feel loved and included during the holiday season is essential. When you put in that bit of effort as a carer, family member or neighbour, you are make a profound difference for another person at this festive time of year.
We look forward to continuing to help you enhance the lives of the elderly in the years to come. To get in touch with Royal College, head here.