Thinking outside the box: Therapy options in aged care
Enhancing the quality of life for elderly people is what aged care is all about. Providing care and therapy for those who need it and maintaining the dignity of individuals as they navigate the changes and challenges that come with ageing.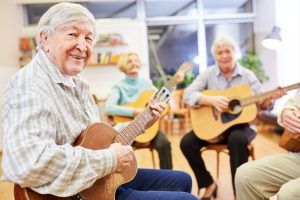 For some, ageing can present difficulties with health including physical and psychological effects. They may have their mobility limited, new conditions to deal with or even the impact of dementia to face.
Each challenge requires a different approach to care. This might be with medical intervention, physiotherapy or a range of other types of care. There are many therapies that are new and evolving, with new research showing benefits of a range of therapy approaches regularly. Investing in these services and incorporating them into your aged care can contribute to the health and wellbeing of those in your care.
Explore the latest therapies and increase your ability to provide the highest possible standard of care.
[Note: Introducing any new therapy should be carefully considered with a person's care team and family and any required professionals]
Music therapy
Music has a range of remarkable benefits at any age, with profound effects on the brain at every stage of life. For the elderly, music can be used as an effective therapy tool.
There are different types of music therapy, including listening, singing or playing music. Often therapies will be tied back into an individual's hobbies, preferences or talents from throughout their life to maximise the impact.
Studies have shown music therapy to be a high-value treatment option that can be enhance the lives of aged care recipients.
The benefits:
Improve memory
Uplift mood
Facilitate emotional connections
Increased self-expression
Reduced anxiety and depression 
Doll therapy
Research into doll therapy, sometimes called child representation, is still in the early stages but results have been positive. Using a quality doll to replicate a baby, elderly people are gently encouraged to provide care for the doll such as dressing it, holding it, bathing it and keeping it safe. This care outlet means that elderly people may develop a sense of purpose from providing care rather than always receiving it.
It's important to ensure that your use of doll therapy is respectful and undertaken with consent. Create a policy around doll therapy and make a plan for the use of this approach within your aged care facility. These doll therapy guidelines are useful to gain some practical insight.
The benefits:
Reduction in dementia symptoms
Increased sense of purpose
Comfort
Improved social skills
Reduced boredom
Pet therapy
There are number of ways that pet therapy can be integrated into care plans. For some facilities, live-in pets are an option, however this is uncommon. Pet therapy can be undertaken with the help of visiting therapy animals, whereby a pet therapist will bring a therapy pet, often a dog, for residents to join sessions and enjoy the benefits.
Alternatively, much like doll therapy, replica pets have been found to have a positive impact on the elderly. When choosing replica pets, it can be useful to look into a resident's history with pets to find one that will be preferable to get the best result. Again, this therapy focuses on the need to be needed and the benefits humans gain from being the providers of care and love.
The benefits:
Alleviated symptoms of depression
Reduced fatigue
Decreased confusion
Increased social interaction
Combat loneliness
Reduced stress
Renewed enthusiasm and interest in everyday life
Art therapy
Creating art can contribute to creating a better life for elderly individuals. Art therapy is used for its calming effects, both mentally and physically. The benefits of art therapy can be channelled through many art endeavours. From working with clay to painting, beading, sketching, colouring or collage — when it comes to art, the only limit is your creativity.
Art therapy can be delivered one-on-one, or group art sessions can be valuable to encourage socialisation.
The benefits:
Reduced stress
Improved memory
Lessened depression
Increased socialisation
Better motor skills
Improved self-expression
Exploring therapy options on an individual basis
There is no one size fits all therapy, so monitoring outcomes and continually considering feedback ongoing is important to assess suitability. What works for one person won't necessarily work for another. Also, what works for a particular period of time may need tweaking or revisiting as time goes on.
With so much research behind a variety of aged care therapy approaches, investing in the elderly community with these services and specialised care can have a lasting impact on their enjoyment of life. Not only that, but seeing the care you provide to the elderly bring about meaningful changes to their lives is part of what makes an aged care career so rewarding.