A bright future in QLD aged care sector
For those looking for a meaningful career that offers reliable job security, Queensland aged care sector offers a promising outlook. The Covid-19 impact fast-tracked plans for a sea-change for a large number of Australians young and old. The number of over-50s opting to reside in Queensland has grown dramatically and will likely continue to do so.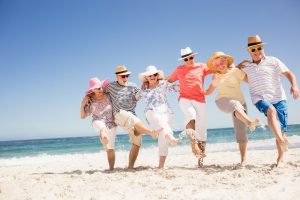 It's not nicknamed the Sunshine State for nothing — with its seemingly endlessly beautiful weather and world class stretches of golden sandy beaches, Queensland life has a lot to offer. In fact, sunny Queensland has long been the dream for many, including retirees who increasingly choose to move north to enjoy the state's relaxed, holiday-esque lifestyle.
The need for care for an ageing population
As Royal College's CEO, Jo Asquith shared Business Daily Media last month, "With the demand from more and more Australians in the ageing population heading to Queensland for the post-career chapter of their lives, the number of over 50s villages and retirement resorts is increasing. With that the urgency for aged care workers has escalated."
Queensland aged care workers in demand
Why wait until you reach retirement age to discover the benefits of living and working surrounded by sunshine?! The growth of Queensland's aged care sector has seen a recent boom but has also been steadily climbing for the last few decades. In 2019 approximately 800,000 Queenslanders were aged 65 and older, which includes almost 92,000 individuals aged 85 years and older. It is projected that 1 in 5 Queenslanders will be 65 years or over by 2049 — that's more than double. With older age comes increased frailty and additional health conditions, making aged care an essential area of focus.
Finding a career with reliable job prospects is important for many, especially in a post-Covid society where unemployment rate remains high. With this older population comes the need for more services catering to and providing care for elderly members of society. As such, while Queensland's population ages, the demand for aged care services increases.
Aged care careers for a sunny outlook
Not only does pursuing a career in aged care offer peace of mind that your knowledge and skills are in high demand, but roles in the sector are remarkably rewarding.
More than just a job, the aged care sector offers a career for those who are committed to providing compassionate care. For those seeking a new career with plenty of room to advance, aged care provides an opportunity to make a genuine difference in the lives of others.
Variety in the workplace
Your days in aged care have plenty of variety. While some jobs require you to sit at a desk all day, in an aged care role you can expect to be doing many different things. You might be involved in music, shopping, craft or social outings with your clients. Each day is different and you are likely to engage with a range of different people over the course of a shift.
Room for career growth
From visiting and caring for individuals in their homes, working in residential aged care, or specialising in areas like leisure and health, aged care has plenty of room to grow and evolve your career.
Range of shifts
Rather than working 9 to 5, aged care careers offer a range of job structures and shifts to suit many different lifestyles and existing commitments. Night shift is an option, along with part time or casual hours. You might start early in the morning and finish earlier in the day, or have a later start to work days.
Get qualified for a bright future
A career in aged care starts with getting the right qualifications. We provide learners all over Queensland with nationally accredited aged care qualifications that will give them a thorough understanding of the Australian aged care healthcare sector. Graduate with the necessary skillset to improve the lives of some of our community's most vulnerable individuals.
Our hands-on training is delivered by sector-experienced professionals who are dedicated to supporting our learners to graduate confident and career-ready. Practical placement is incorporated into your course, so by the time you have completed your studies you have already gained real-world experience to take into the workplace. In fact, many learners receive an offer of employment while completing their practical placement hours!
The Certificate III in Individual Support is a great place to kickstart a career in aged care. You will learn how to empower and enrich the lives of older Australians, while ensuring they receive the necessary support and healthcare to get the most out of life.
If finding a meaningful and fulfilling career with genuine job prospects is important to you, it might be time for you to explore the aged care sector. Better yet, explore Queensland's aged care sector and take on a rewarding career and enjoy the sunshine.
Contact Royal College to get started.