Supported experience through practical placement
When it comes to learning essential hands-on skills to succeed in an aged care career, practical placement is a vital element of the training journey. At Royal College we are strong advocates for our learners gaining these on-the-job abilities through their qualifications.
That's why when you're studying a Certificate III in Individual Support (CHC33015), a minimum 120 hours of practical placement is incorporated into your course requirements.
While most learners appreciate that they will gain plenty of valuable learning experiences through practical placement, the thought of arranging it can be stressful. Thankfully, when you train in aged care with Royal College and are not currently working within the aged care sector, our dedicated team is here to match you with an aged care setting to complete your placement.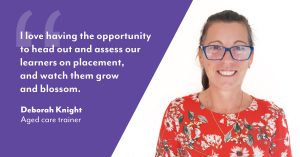 Practical placement that suits the learner
Deborah Knight is our Vocational Placement Coordinator who helps to find aged care services for learners to complete their placement components within. This means learners have access to the immense benefits of practical placement without needing to take on the task of organising it themselves.
Deborah handles the entire process for getting you set up for practical placement. From the moment a learner reaches the appropriate time in their course (usually around halfway), she locates aged care facilities conveniently located for each learner and helps them to secure a spot.
Deborah explained that Royal College has work placement agreements with a range of aged care facilities to suit a variety of learners' preferred locations. However, if a learner does have a facility in mind, Deborah invites them to let her know so she can try to make arrangements where possible.
"I also invite everyone to give me up to three or four facilities in their areas and I do my best to create a working relationship with them and do all necessary paperwork to get our learners in there."
Deborah will also help support learners who need specific hours to fit in with their existing commitments. For example, if a learner has children and would benefit from hours to suit their circumstances this can sometimes be arranged depending on the aged care facility.
"We try to do everything we can for our learners, it's all about communication and telling us what they need and we'll do our best."
Deborah's firsthand experience to support learners to thrive
Before they can undertake the practical placement, Deborah confirms that learners must have completed the simulation day before they are ready to begin placement. This is where learners can get hands-on with the physical elements of aged care work such as making beds and using hoists in a simulated environment.
Deborah knows firsthand the importance of having practical skills to thrive in studies and future employment, with over a decade of experience as an aged care worker herself. The difference in learners before and after their practical placement is often astounding.
"I've seen learners who have undergone complete transformations through their placement. Some have started off shy and lacking confidence, but then have excelled within a couple of days and are skipping down the corridors!"
Deborah clarifies that it's quite normal to feel nervous before starting placement, but has a few tips:
The more you do things the better and quicker you will be at them.
Ask as many questions as you need to. There's no such thing as a stupid question.
It's like riding a bike — keep at it and before you know it you'll be riding with no hands.
From practical placement to employment
For some learners, their time with an aged care facility during practical placement even leads to long-term employment.
"It does happen. We set them up, and from there it is up to the individual. We trust that we've given the learners everything they need to show initiative and shine."
Practical placement is a highly valuable component of the aged care training journey. For many undertaking an aged care course, it's not until the practical placement component that the theory they've been learning really clicks into place and makes sense.
 "I love having the opportunity to head out and assess our learners on placement, and watch them grow and blossom," says Deborah.
With the support of the experienced and dedicated team at Royal College, getting qualified and completing your course feeling job-ready is within reach.
For more information or help with practical placement, we can help you out. Simply contact us today!